The laser becomes gentle
Carla Tinagli - 19/04/2018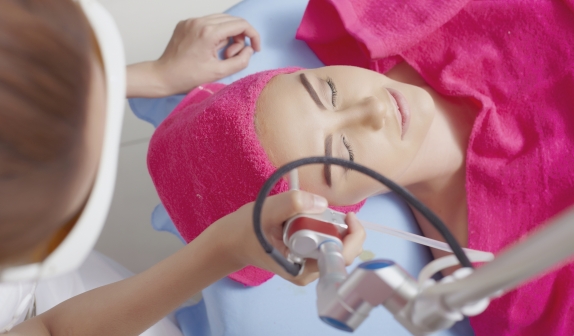 Once upon a time, the laser was the most effective method to rejuvenate the face, but it was not exactly gentle and would leave the skin red and irritated for about a week.
Today there is a truly revolutionary fractional laser that can be found in the most advanced spas that is quick and painless with visible results after the first session. Just think that Alessandra Ambrosio, one of Victoria's Secret's most beautiful angels, undergoes a session with this "magical" device right before taking to the catwalk.
With this method, energy is transmitted into the dermis through a hand piece that stimulates the production of new collagen, leaving the tissue toned while the epidermis remains intact. Skin immediately appears more compact, taut, and smooth.
The device can also be used in the most sensitive areas, such as the décolleté or hands, which typically are very difficult to treat. The treatment on average lasts about twenty minutes, and can be performed on all types of skin. Unlike more invasive lasers, which favor the development of elastic fibers through heat, this device uses a mechanical effect which focuses energy under the epidermis.
This method guarantees optimal results even when the skin is sagging and dull, so much so that it is considered a non-surgical facelift. Patients like this method because it does not leave any swelling or bruising, unlike ablative lasers or other more invasive treatments that have a longer recovery time that is incompatible with today's life.
http://youspa.eu/en/magazine-article/583-the-laser-becomes-gentle
The laser becomes gentle
The laser becomes gentle
http://www.youspa.eu/ufiles/big/UID5774D8B529DAC_image_1.jpg
The laser becomes gentle

Carla Tinagli
Journalist, she's been dealing with wellness, beauty and lifestyle for years. She collaborates with many newspapers and is always in pursuit of beautiful things and something that inspires you wellbeing.