Courchevel is offering Aquamotion
Anne Autret - 11/04/2018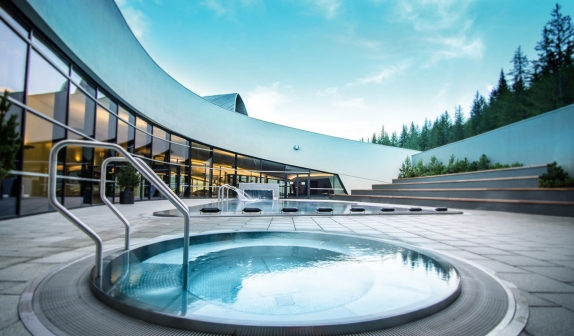 Aquamotion. This is the name of a complex dedicated to aquatic fun, relaxation and well-being, which opened this winter at Courchevel 1650.
An investment of 63.5 million euros, 15,000 m2 of floor space, of which 10,000 m2 is inside: with a green roof, huge windows and an aerial ballet of curved lines, the complex has grand style in the heart of the largest ski area, the most connected to the world. It has a great attraction for VIPs attending the Alpine resort, with three palazzi and 16 5***** hotels, but also for families and mountain lovers, during summer and winter.
It took four years to prepare this extraordinary structure, built overlooking the valley. There is innovation and the latest equipment for "a unique experience" everywhere. Is Aqualudique a sports area? It combines a wave of indoor surfing, a novelty in the mountains, a 25-meter tank, a climbing room, a 110-meter canyon, a giant Pentagliss, an open lagoon on the outside...
There has been a Wellness space for over 18 years around a beautiful relaxation pool, three saunas, a caldarium, a hammam, a salt cave with a giant screen... Regarding the Spa & Bathing space, there are 19 large cabins. It offers: facial and body treatments offered by the Algotherm brand, a selection of modelage, bathing treatments (massages under affusion, multi-jet baths...) and wellness moments ranging from a few hours to several days. As of July, Pure Altitude treatments will enrich the offer.
GALLERY-TAG
Aquamotion is also distinguished through its restaurant. A little hungry after being on the aquabike or a beauty regimen? Head to Café Nikki or Cabana Grill. After Miami, Saint-Tropez, Monaco and Ibiza, the American Nikki Beach group has settled in the mountains, and it has its own Courchevel Aquamotion. In essence, a new trendy destination has been born. Its added value? Admission prices: €22 to enter the Aqualudique space (a 3-hour pass), €12 for children. The center will reopen on June 13, after a spring break.
http://youspa.eu/en/magazine-article/561-courchevel-is-offering-aquamotion
Courchevel is offering Aquamotion
Courchevel is offering Aquamotion
http://www.youspa.eu/ufiles/big/UID575ED7BA5B4FB_image_1.jpg
Courchevel is offering Aquamotion

Anne Autret
I am a journalist specializing on the subject of beauty, health, fashion, distribution and marketing (luxury and mass market ). Previously editor and director of the information site estheticfactory.fr (Aef group) for the general public, and of the professional magazine CosmétiqueSpa, editor and deputy head of the Fashion Daily News and journalist of the magazine.