Villa Eden Leading Health Spa
Roberta Schira - 13/04/2016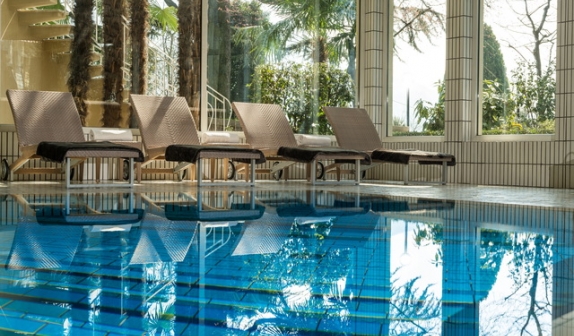 Spa…
At the time of the Austro-Hungarian Empire, Princess Elizabeth, the famous Sissi, chose Merano as the destination to unwind and feel at peace. And the Schmid family is an institution in Merano. Everyone remembers the founder Karl, the entrepreneur of the exclusive, famous Jägermeister digestif, who founded Villa Eden in the 80s. Now, from the children it is Angelika that specializes in the standard hospitality. Today, Villa Eden – Villa Eden Leading Health Spa – is a hotel, medical center and Spa. One of the places in which – given my gastronomy critiquing work – I seek refuge from time to time for a detox period.
In over 20 years Angelika has developed a formula that seems magical – but it is not magic – for losing weight and detoxing with great results (even 3-4 pounds) in just one week. The formula consists of a mix of scientific advice, treatments, clinical examinations and a diet regimen, which can transform you aesthetically and benefit your moods.
GALLERY-TAG
As for me, I get exciting results with 1000 calories a day and a range of treatments such as a body cast. In addition there are long walks along the Passer River or on the panoramic Tappeiner. Try the brand new test to check oxidative stress, which is useful for delaying the aging of cells.
Signature Treatment: body cast. Two hours of relaxation with a massage and a kind of mud mixed with essential oils that raises the temperature in the problematic part of the body. Obviously for men as well.
Food…
Merano is famous for clinics that help you lose weight, but it's hard to resist the overflowing delis in the center. The only transgression will be by the star chef Andrea Fenoglio from the Sissi restaurant: excellent food with a fair value for money. And before leaving, try the bread, the real attraction of the territory: rye, farro, whole wheat, in the form of crackers and biscuits. One of my favorite shops is Ultner Brot Ohg Des Schwienbacher.
Signature dish: pretzel bread.
http://youspa.eu/en/magazine-article/462-villa-eden-leading-health-spa
Villa Eden Leading Health Spa
Villa Eden Leading Health Spa
http://www.youspa.eu/ufiles/big/UID570E22C232B94_image_1.jpg
Villa Eden Leading Health Spa

Roberta Schira
Journalist and gastronomic critic with a background in psychology, Roberta lives in Milan and travels a lot. She has written a dozen books, including cookbooks, novels and food anthropology manuals. She has always recognized the benefits of water and the care of oneself as an absolute tool for the recovery of body and mind energies. www.robertaschira.it