Facial yoga
Carla Tinagli - 31/03/2016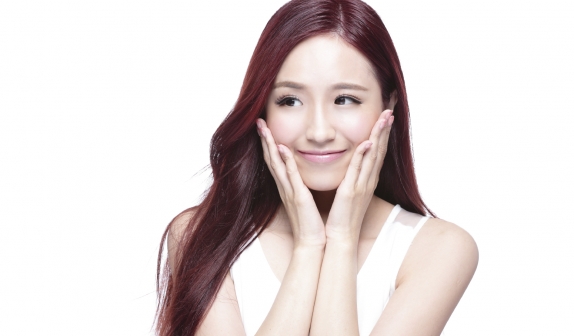 No more pinpricks or scalpels! Facial yoga is a natural procedure, based on soft rejuvenation techniques, which has fans even in Hollywood. Gwyneth Paltrow and Jennifer Aniston are both devotees of facial yoga which aims to smooth facial lines in a less invasive way.
It involves repeated exercises done daily for about fifteen minutes targeting the eyes, cheeks, area between the eyebrows, forehead, neck and chin. Results are visible after a week. Judging by the celebrities who practise it, facial yoga is very effective. For this reason, beauty consultants at wellness centres now advise customers to perform it every day in front of a mirror when they get home.
Joanna Hakimova, a Russian biologist specialising in bio-aesthetics, has developed a technique similar to facial yoga called self-lifting (also known as bio-lifting). She compares the face to a sculpture which can be modelled through self-massage, creams and facial exercises. She explains the importance of simple facial exercises that can be done in front of a computer, in the car or even while speaking and eating. In fact, according to Hakimova, exercise is the main element in bio-lifting. She argues that you need to focus on reducing tension through exercise. Each movement is repeated until it becomes uncomfortable. This means that the muscle is working and producing lactic acid making it stronger and more voluminous.
Silvia Pengo has developed a similar programme called Fit'n'Face. According to her, wrinkles, especially those around the mouth and eyes, are greatly accentuated by expressive contractions and relaxing the muscles can diminish them. Another trick is to follow a healthy diet. For instance, you should avoid salty foods in the evening. In that way, you won't wake up in the morning with a parched and contracted mouth area.
http://youspa.eu/en/magazine-article/446-facial-yoga
Facial yoga
Facial yoga
http://www.youspa.eu/ufiles/big/UID56FD8E31EEFE7_image_1.jpg
Facial yoga

Carla Tinagli
Journalist, she's been dealing with wellness, beauty and lifestyle for years. She collaborates with many newspapers and is always in pursuit of beautiful things and something that inspires you wellbeing.