Caves as wellness centres
Carla Tinagli - 29/12/2015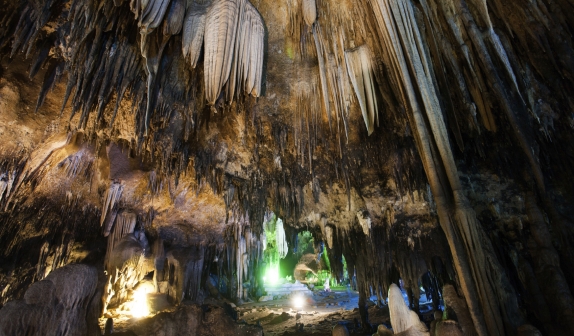 What is the latest trend in wellness? Going through caves, or practicing cave therapy, that can be beneficial to the body, using the humid-hot microclimate of caves. "It's good for the skin, blood circulation, and respiratory system", says Nicola Angelo Fortunati, a doctor specialized in thermal treatments and medical director at a major centre.
"Of course, reactions differ depending on the type of cave. The most common are humid-hot types (what we commonly think of as caves) and dry-hot types, also known as stoves". Humid-hot caves are often connected to mineral water springs with differing chemical compositions that include: sulphur, a mixture of salts, bromides and iodine, and earthy sulphur-alkalines. These mineral springs flow inside the caves, saturating the environment with water vapour and creating a relative humidity from 98% to 100%. In 'stoves', on the other hand, steam is released through cracks in the earth or the cave walls. They have even higher temperatures (above 50 degrees Celsius), which enhance the beneficial presence of airborne substances like sulphur, iodine, ions, gas, mineral salts.
To try out a stay in one of these caves, you don't need to become an explorer. The most advanced spas make the opportunity available to everyone. One of the most striking is a thousand-year old grotto in Tuscany (which is the largest in Europe). It's divided into three chambers: Heaven, Purgatory, and Hell, each with its own different temperature. There, you can enjoy the beneficial effects of thermal water vapours, which are rich in salt, sulphates, alkalines and earth minerals and good for the skin, circulatory system and muscles.
http://youspa.eu/en/magazine-article/326-caves-as-wellness-centres
Caves as wellness centres
Caves as wellness centres
http://www.youspa.eu/ufiles/big/UID567959EE8A7AB_image_1.jpg
Caves as wellness centres

Carla Tinagli
Journalist, she's been dealing with wellness, beauty and lifestyle for years. She collaborates with many newspapers and is always in pursuit of beautiful things and something that inspires you wellbeing.