BASI's sponges in the best SPA and Wellness Centers
Bathrobes and towels must be designed and made with great attention to detail in order to wrap clients in soft pleasure and co-ordinate with each Spa and Wellness Centre's overall feel.
YOUSPAMAGAZINE - 30/01/2015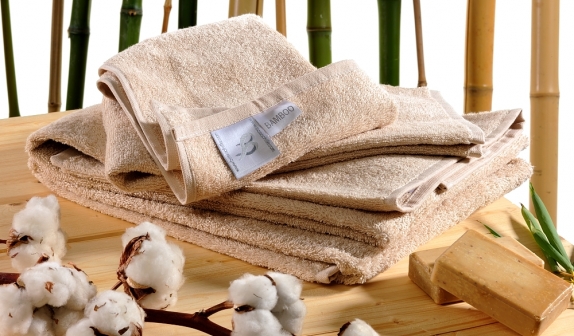 A relaxing holiday or weekend in a Spa is synonymous with looking for relax, psychophysical well-being and health and beauty treatments. Tied in with the concept of an all round relaxing emotional experience are details that can make a difference and contribute to creating an even more pleasant retreat. Bathrobes and towels must be carefully chosen and designed with greater attention to comfort in order to allow customers to immerse themselves in a comforting softness.
Basi Achille Srl is a company that has been specializing in textiles and towels for the past 70 years. Basi has established itself for the quality of its coordinated products for hotels, but also for thermal centres, Spas, wellness centres and more recently, the sport world. The love for this job combines with research have made it possible for the company to reach prestigious goals in its sector. Basi offers its clients consulting with custom solutions, developing highly personalised items. This exclusive personalisation, with careful attention to detail can reproduce the company's philosophy and strengthen the client branding, such as in branded and coordinated products for hotels and spas.
The Research department over the years has always been on the forefront of innovation and has developed many interesting items, such as Teloio. A mix of the Italian words for towel (telo) and bathrobe (accappatoio), the teloio is essentially designed like a South American Poncho, realised in either towel or honeycomb textile that can be tied with a belt. Another innovative product by Basi are towels made from bamboo fibre, which is extremely soft, and rid of allergies and bacteria. In oriental cultures, bamboo is the symbol to some of the most noble traits. For some it is a symbol of friendship, for some it represents a holy barrier against evil, and for some it is the symbol of long-life. Basi chose it because of its incredibly soft, natural and organic fibre. Bamboo allows for transpiration while at the same time absorbs well and is resistant to bacteria, therefore making it ideal for people with delicate skin or prone to allergies. Thanks to all these characteristics, the company has decided to blend it with cotton to create a product that's unique.
http://youspa.eu/en/magazine-article/80-basis-sponges-in-the-best-spa-and-wellness-centers
BASI's sponges in the best SPA and Wellness Centers - Youspa Magazine
BASI's sponges in the best SPA and Wellness Centers - Youspa Magazine
http://www.youspa.eu/ufiles/big/UID551015F80A2BA_image_1.jpg
BASI's sponges in the best SPA and Wellness Centers - Youspa Magazine