SIA GUEST in Rimini
The best hospitality, SPA and Wellness in the project HOTEL IN MOTION 10 - 12 October appointment at Sia Guest 2018 in Rimini
Elisabetta Farneti - 08/10/2018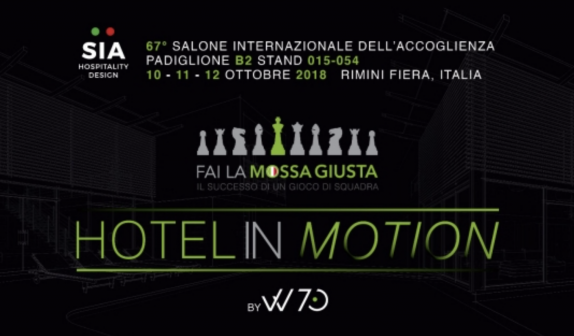 Innovative and "green" environments
The large exhibition space, designed by Wellness 7.0 and set up by a pool of leading companies in supplies and services related to hospitality, this year moves towards the environment, proposing a green project that enhances the union between architecture and nature, in whose exterior and interior come into contact and the spaces blend together, giving a multi-sensory experience. Sustainability is the common thread in technological choices, creating a smart environment where home automation, accessibility and high efficiency are the key elements for the success of the project.
Water and wellness
Important in the design logic is the natural element of water: water and fire, water and earth, water and air. A continuous dialectic relationship that finds expression in the integration of the project with the surrounding environment. The house on the water becomes the symbol of harmony with nature, well-being and life itself.
Team play and innovation
"Fai la Mossa Giusta" is a partnership of top level companies at the service of wellness and accommodation facilities. For years the team of Fai la Mossa Giusta works to group and create synergies capable of impressing new trends, relaxing atmospheres, style details for the hotel industry. Media partner of Fai la Mossa Giusta are the Youspa portal and the Beauty Plan and Show Room titles of the publisher ADWIN.
A place with the best of hospitality
"Fai la mossa giusta" for years works to show and develop your own concept of hospitality. Visiting and participating in "Fai la Mossa Giusta" means entering a large stage in which each product and project is contextualized and exalted. It means becoming part of a hub, developing a network of relationships, creating opportunities for growth and interaction with leading companies in the world of hospitality and hospitality. In fact, Hotel in Motion is not just a showcase for participating companies: by combining the best products and services in the sector, the project becomes an exhibition space, where everyone exhibits their uniqueness in a shared space, whose strength lies in proposing as a group, creating a pool of excellence always at the service of the sector.
YOUSPA MEDIA PARTNER for the 4th year in a row
Media partner of Fai la Mossa Giusta also in this edition are the Youspa portal and the Beauty Plan and Show Room titles of the publisher ADWIN, which will tell the event about their own magazines.
The YOUSPA Portal, which has always believed and supported the development of the "Fai la Mossa Giusta" project, will promote the event for the 4th consecutive year.
http://youspa.eu/en/magazine-article/708-sia-guest-in-rimini
SIA GUEST in Rimini - Youspa Magazine
SIA GUEST in Rimini - Youspa Magazine
http://www.youspa.eu/ufiles/big/UID5BD07D2C0474D_image_1.png
SIA GUEST in Rimini - Youspa Magazine