A spa in the mountains: receive post-sport treatments
Carla Tinagli - 14/01/2016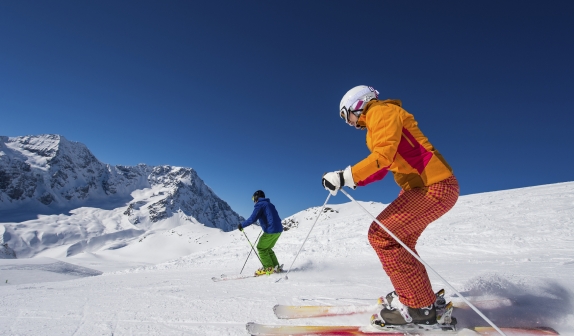 All day spent on the mountain slopes or on backcountry ski tours or hiking trails… But what about in the evening? Well-deserved relaxation, better if "aided" by the right facilities, or by the gentle hands of a professional to regenerate your tired muscles.
There are many treatments available after a long day of high-altitude sport. From salt caves, in which tension is eased by leaning against walls with salt gradation, to being immersed in a salt-water swimming pool, floating between the alternating colours for a true chromotherapy treatment, to the revolutionary LnB Motion Method which restores the muscle and dynamic balance of the body. The technique, used as a complementary training exercise by many Olympics champions, consists of various exercises which help the stretching of muscle fibres, paired with delicate acupoint pressure techniques. We mustn't forget to mention the exclusivly Alpine treatments, such as the hay bath, hot apple or pine extract compresses, and anti-cold wellness programmes which aim for both the hydration and the cleansing and exfoliation of the skin.
The grape is also often used in high-altitude Spas, particularly in South Tyrol (northern Italy). In fact, grapeseed extract is rich in vitamins and mineral salts that, together with tannins and yeast, help to revitalise skin cells.
Packages you must try include a foot bath, a heat pack with grape-seed filling placed on the cervical area, a body peel with seed honey and a fresh-grape bath.
http://youspa.eu/en/magazine-article/341-a-spa-in-the-mountains-receive-post-sport-treatments
A spa in the mountains: receive post-sport treatments
A spa in the mountains: receive post-sport treatments
http://www.youspa.eu/ufiles/big/UID5697A5DD37F30_image_1.jpg
A spa in the mountains: receive post-sport treatments

Carla Tinagli
Journalist, she's been dealing with wellness, beauty and lifestyle for years. She collaborates with many newspapers and is always in pursuit of beautiful things and something that inspires you wellbeing.